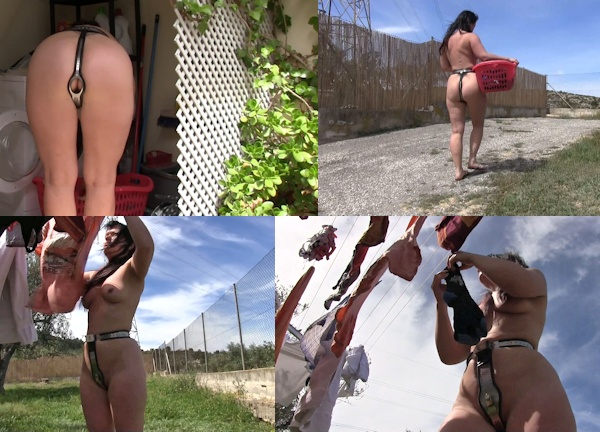 Two years ago, Yvette Costeau worked a summer at a Spanish villa, spending many days in chastity and doing hard labour. After celebrating a chastity holiday (when I visited), she was the only girl left in Spain. I had to go home too, but the landlord asked me to leave Yvette's chastity belt behind.
She has worn it a lot since then. She was even wearing it in public (uncovered) at her convention jobs (from which she tried to escape in cuffs and full chastity, that was legendary!). Yvette loved her belt, so I let her keep it. She bought the chastity bra herself! I'm so happy more and more girls are getting their own belts (Cobie, Pling, LittleRedGirl, Lizanne, to name a few).
Of course, the landlord in Spain loved belts too, and he made a lot of videos of Yvette doing her daily chores in exchange for staying at the Spanish villa. I just received this video of Yvette doing laundry, it is amazing to watch her, how she is used to her belt, working in the blazing Spanish sun, completely naked and belted. I really need to get my own house in Spain and invite girls over for a free flight and stay (there will be only one condition), I'm getting a bit jealous now! But then again, I am a big fan of Yvette, she is one of the kinkiest girls in the world and a famous hardcore bondage model who can do the most extreme rope and metal positions. Who wouldn't want to have her running around the garden in a chastity belt!