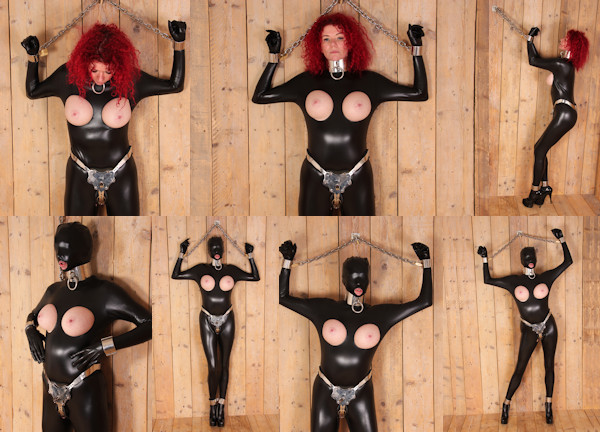 Look what I caught! This fiery redhead from Australia visited my studio to try some metal bondage gear, but she got a bit more than she anticipated! Scarlett aka Latex Rapture was wearing this amazing Zental catsuit with her big boobs poking out, so I just had to chain her to my wall!
Before she knew it, she was locked in a Carrara belt. First things first! Then some very heavy wrists and ankle cuffs and a very tall heavy steel collar. Her wrists were chained to the wall, and she started to realize there was no escape! The key was near, but she couldn't reach it.
I added a hood to her zentai suit, which did not have any openings except for the mouth. No eyes, no nose. This scared her, but it also excited her. She couldn't see anything anymore, and I just went very quiet to make her think I had left. She stopped struggling. 'Hello?'… she tried. No response. She got very aroused! Captured and left alone in steel bondage. This was her dream!