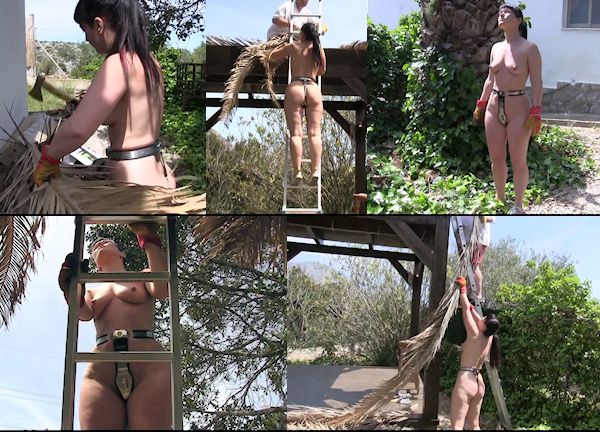 It wasn't all fun and sun for Yvette Costeau when she was in Spain. Even before I got there, the landlord emailed me that Yvette was already there (the other girls did not arrive yet), and that he would put her to work, because there were no photographers to shoot her. I replied (jokingly): "ok, but make sure she wears her chastity belt!".
I did not think of it any more, but when I arrived in Spain, Yvette was giving me the evil eye. It turned out that the landlord had put her to work for many days, in the hot sun, completely naked and locked in her chastity belt! They had built a little gazebo and the roof needed thatching. Yvette had actually done all of the work in her chastity belt and they had even filmed it all for me! I explained to them later that I had just been joking, but the landlord was very amused and Yvette did not really hate me, she actually thanked me for the opportunity to get used to the belt for such a long period of time.
I've been good friends with Yvette ever since, and whenever I see her she makes sure she is locked in her belt (I let her keep it of course). She is one of the toughest girls I know, and she could probably do everything and anything while locked in a belt. It almost seems like she does not notice it anymore! She even goes to the toilet without any problems.
Have you ever seen anyone work this hard, in the hot sun, completely naked in a chastity belt? It is a fantastic video!
A note: this video is very long, so it is a huge file, I hope everyone can download it without problems.