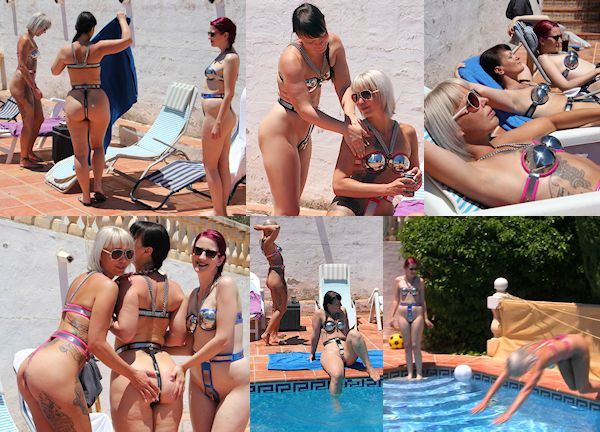 Another summer update that will really make you smile! I was in Spain again this year with couple of fetish producers and models, and I managed to make another Deal with 3 of the girls there: they would be locked in bra and belt for 48 hours to receive a bit of holiday cash! No breaks allowed and all 3 must make it or no one gets any money!
For Yvette Costeau, that was not a suprise (as she was there last year too), she even locked herself in her black chastity belt before I could finish my sentence, handing me the keys with a mischievous look in her eyes. The bra was new to her, but that wasn't a problem for her either. New girls Lillian Caine and young purple haired Rija Mae were a bit harder to convince, but once they saw Yvettte in her gear, Lillian quickly snatched up the pink gear, leaving Rija with the blue trim chastity set.
After a lot of fitting and adjusting, all sets were tight and locked and the girls were free to do whatever they wanted. After all, we were on holiday! So they immediately went for the swimming pool, with their drinks and their towels! What a sight! Black, blue, and pink, three girls in bra and belt in the hot Spanish sun, gleaming and shining. They rubbed each other with sun lotion, went swimming, played with a ball, and they talked a lot, sunbathing like it was just a regular day! Amazing to see three girls get used to the gear so fast!
Join now to see this great cheerful video of three girls in colorful chastity belts and bras! Don't miss it!
A note: the video file is in 1080 MP4, which is bigger than usual, it is a huge download, so I hope everyone will manage this (make sure you are on a stable connection, and use a good device to play this video). If there aren't too many problems reported, I will release all videos in this format from now on.