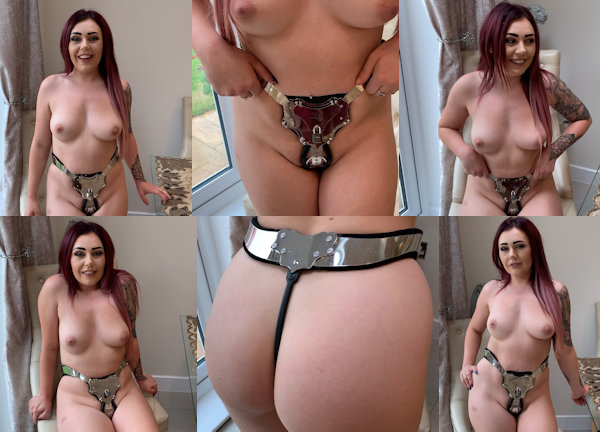 Natalia Forrest keeps finding me girls for Castings in her house in the UK. It's very funny to see who she comes up with. Much to my surprise, she sent me this video with Kacie James!
Now, for the faithful followers of this website, Kacie James is no stranger! Her actual Casting was in 2013, when she did a schoolgirl roleplay which was a definite member favorite! If you are old enough to remember that, then you will CERTAINLY remember the time that she came over to Holland with her friend Roxy Mendez, where they did a school WEEK challenge in 5 parts (Monday, Tuesday, Wednesday, Thursday, Friday). It progressively got more challenging for them as each day more gear was added!
That was in 2015, and I haven't really heard from her since. Until Natalia suddenly sent me this Casting video. Well, it is obviously not really a Casting, but it is a lot of fun to watch as the girls discuss the challenge of being in a chastity belt (both having quite some experience), going over to Holland for a Chastity Deal, and using the toilet in a belt.
Kacie looks amazing in 2019!! The tight Carrara belt is a perfect fit, she can't touch herself at all, and it really looks stunning on her. I am very glad Natalia found this girl again, it is a great idea to get Kacie to Holland again. Especially since she is willing to do Chastity Deals with remote controlled toys, that's always a lot of fun! I hope you like this nice surprise as much as I did! Welcome back Kacie!