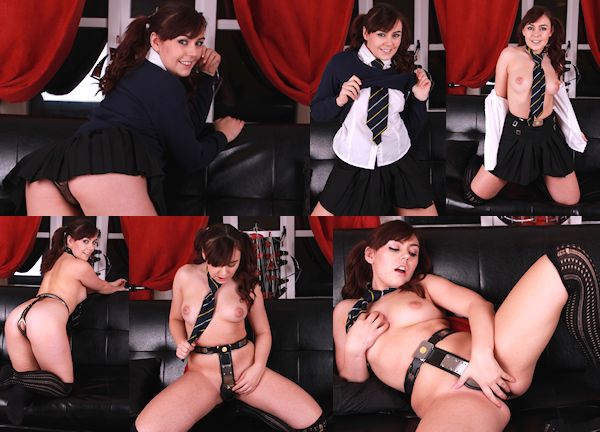 For school girls, a chastity belt should be part of their uniform. Who knows what trouble they would otherwise get into! School is a place to learn and a chastity belt can help to focus! Cute UK school girl Kacie James is far too naughty to pay any attention in class though… she would rather spend all day playing with herself.
That's why Kacie couldn't wait to get home! She makes herself comfortable and gets out of her school uniform, but the chastity belt is still there, and today it is not coming off! We know Kacie James is going to hate us for that, but her education must continue, even after school! Kacie tries everything she can to get some satisfaction, but the belt is rigid and pretty tight on her young body.
Kacie gives us the finger and mutters 'stupid thing' at the belt. She just earned herself one more day in the belt! Just go to sleep, Kacie… there is no way you can get any relief now.
Note: immediately after this Fantasy shoot, Kacie James emailed us, asking to come back for a Chastity Deal! She said she thoroughly enjoyed being belted, and she wants more! It triggered a special feeling inside her! That's good news, we will try to invite her over to Holland in 2014!