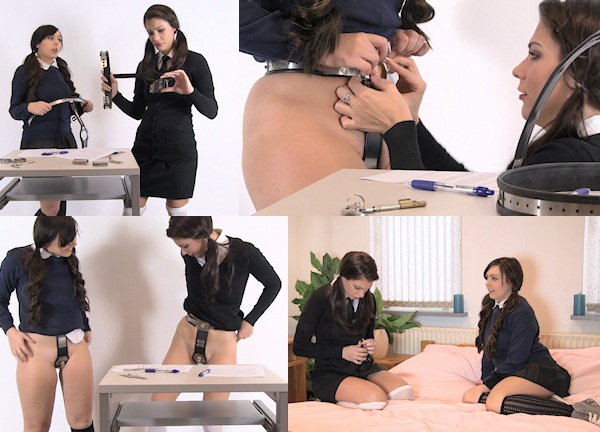 Remember sweet UK school girl Kacie? Watch this update first if you haven't seen it yet! I received a lot of response on that update, a lot of you seem to wish that a chastity belt was part of the school girl uniform!
For this Fantasy update series, I have invited Kacie to Holland, along with her close friend Roxy! The girls will be signing a contract to be belted for a school week (5 days), starting today! Roxy isn't at all sure about this Deal, but Kacie eventually convinces her friend to be belted for 5 days! Together they can do it! See the girls sign their contracts and give me the keys after they lock each other in their tight chastity belts. And watch them come home after school, Kacie still positive as ever, Roxy already on the verge of giving up on their Deal.
They were already having a few issues on their first day, and the worst is yet to come! They didn't read their contracts (seems like no one does), and the paper they signed clearly states that something will be ADDED every day. Can you guess what items will be added to this Chastity Deal over the next 4 days? Remember, if they give up at any point, they won't get any money at all! And since they already did one day, it makes no sense to give up now! They will have to get through this school week!