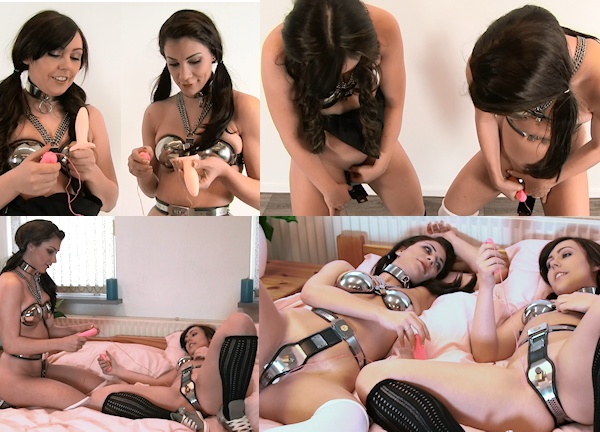 The girls were really nervous about what would be on the little table on Thursday morning! They were so surprised to see the keys to their belts lying there! I told them to unlock the fronts of their belts, and put two soft vibrator plugs on the table!
Pink soft vibrator plugs! Kacie and Roxy were looking at them… wide eyed… 'Are they supposed to go inside?', Kacie asked. They picked up the plugs and played with the remote controls. 'Ooh, it is really powerful!', they exclaimed. Without thinking too long, both girls inserted the plugs and locked their belts back up. They quickly returned the keys to me (without me asking), they couldn't wait to go back to playing with the knob on their cute pink remote controls. This was going to be a fun day in class! Much better than yesterday!
After school, Kacie was glowing with pleasure! Roxy was not sharing her enthusiasm though, she hadn't dared to play with the vibrating plug, afraid that anyone would hear the buzzing sound. Settling down on the bed, Kacie encouraged Roxy to try turning the vibration speed up all the way. Soon, they both got into it so much that all they could do was lie back on the bed and play with their (and each other's) remote control. And that's when things got really interesting! Automatically, their hands went to their boobs. Almost all girls do that when they are stimulated, their hands will go to their nipples. But they were locked in chastity bras, and they couldn't touch themselves anywhere! 'I wish I could touch my boobs!', they both sighed… Frustration and arousal levels were peaking! They slipped under the covers to moan and play for a long time, the metal gear preventing any real relief. So much fun to watch!!