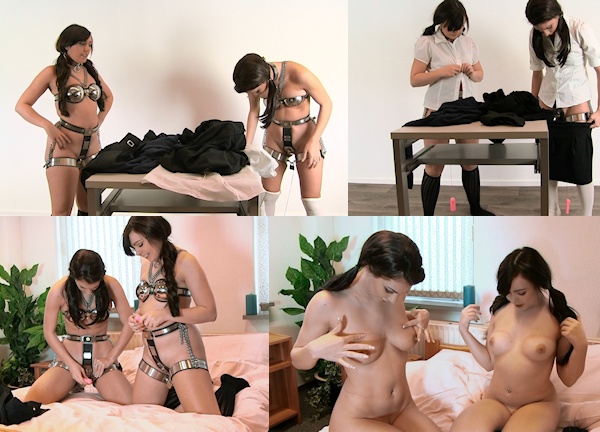 Friday!! The final day of Kacie & Roxy's Chastity Deal! School has never been so interesting! They would get their cash after school, so there was no way they would be giving up now, no matter what I would add to their predicament that day!
You guessed this one too: thigh bands of course! Perfect chastity gear for school girls, because of the uniform skirts! Well, it turned out to be a little harder because Kacie's skirt did not fit over the thigh bands so she had to go find another skirt, and the noise of the thigh band chains is incredibly loud, so they would have to move very slowly and quietly. Although the quietness had gone out of the window anyway since the installation of the vibrating plugs!!
The girls were so happy with the plugs under their belts, it did not really matter what else they would have to wear. They were turning the speed up and down all time, exclaiming little cute yelps of pleasure, and the dangling remotes even activated themselves when the girls would bang into things.
After school, they were happy to receive the keys to all of this gear, and they unlocked themselves… tired, but relieved. They had some very deep skin marks from the tight chastity gear, but they were ok, and so happy they made it!! The only thing they regretted was that they weren't plugged anymore. Much to my surprise, they decided to KEEP the vibrators! That was NOT in the Deal! But I let them have the pink vibrating plugs. They had earned them. What a week, possibly the best Deal I ever filmed, with two incredibly funny girls! Thanks Kacie and Roxy, hope to see you back again soon!
Included in the member downloads: a funny outtake video scene of Kacie and Roxy swinging their dangling remote controls around by moving their hips :-)