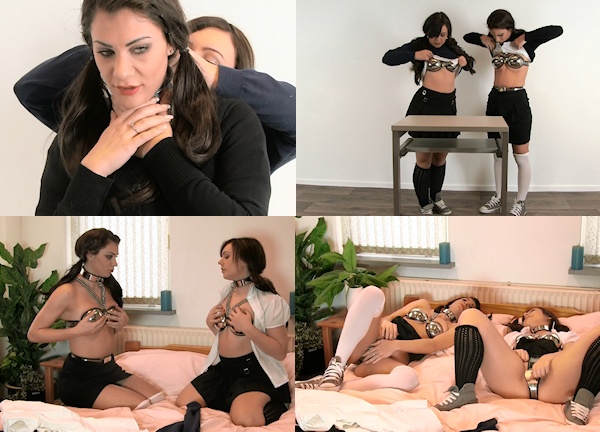 You guessed it: Wednesday is collar day at Chastity Belt College! An easy day, you might think. But don't forget about the gear they are already wearing! Roxy's chest is still getting squeezed by her tight chastity bra, and she is about to give up! Kacie has to make every effort to keep her friend in the game!
First, the duo is worried about what the teachers may say about the collars, the only piece of gear so far that will be visible. Surprisingly, it is Roxy who tells Kacie is won't be so noticeable. She suggests trying the collars to see if they can be hidden by their shirts and ties. Unfortunately, the collars are very visible, and they only discover this after they have locked them onto each other! This will be a hard day at school!
After school, Roxy tells Kacie that she can't make it for two more days. But it seems the reason is not the tight chastity bra! Roxy is getting frustrated, she can't touch her nipples, or her pussy! She really didn't expect that she would be so frustrated by this metal gear! And Kacie has to agree… they are both getting quite horny and there isn't going to be any relief until Friday after school!! Very hard for these young girls who usually masturbate several times a day!
I knew I had to do something special for these girls on Thursday, to let them have a little pleasure! Stay tuned to find out what the girls will find on the little table the next morning before school! You will love it!