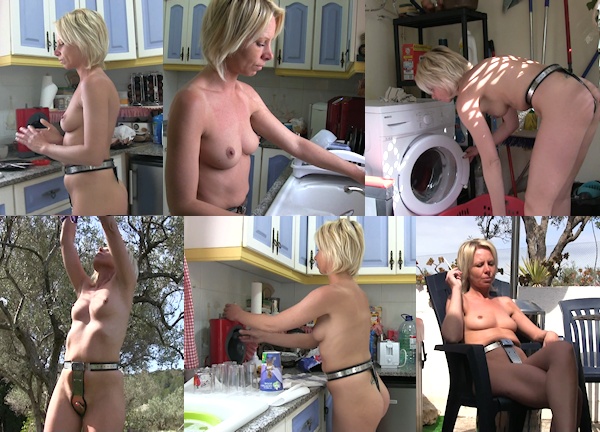 Some interesting news reached me this week: the owner of the Spanish villa where I shot my Chastity Holiday adventure has become very interested in chastity girls. After all, he had three girls (Yvette Costeau, Rija Mae, and Lillian Caine) in chastity at his villa for a week. In exchange for a free holiday, they were belted and did some household tasks.
He must have missed his belted housekeepers, because he emailed me to say that he has hired Lena King as his permanent housekeeper. I know Lena does not have much money and she is a very nice submissive woman, so it is the perfect job for her! Lena was also on a chastity holiday (the year before, in a different villa), so she is not a stranger to chastity belts.
I received a very nice video of Lena's daily life. She is doing all the cleaning, cooking, and laundry around the villa, and she seems very happy. Her contract states that she must be in a chastity belt at all times, completely naked (but it is quite warm in Spain), and she can be used as a bondage slave as well. Okay, that last part is a bit dubious, because it might start to sound like slavery (chastity, nudity, cleaning, bondage), but it is not like that. Lena can leave at any moment. She even knows where the keys to her belt are. But if she leaves or takes the belt off, she will have to go back to Hungary and she can not stay in the villa anymore.
The owner of the villa has invited me back this summer, for a new week of chastity with at least 3 girls. I am looking forward to see Lena again (if she is still there). She is a perfect housekeeper and I am very happy for her that she found a job and a nice place to live!