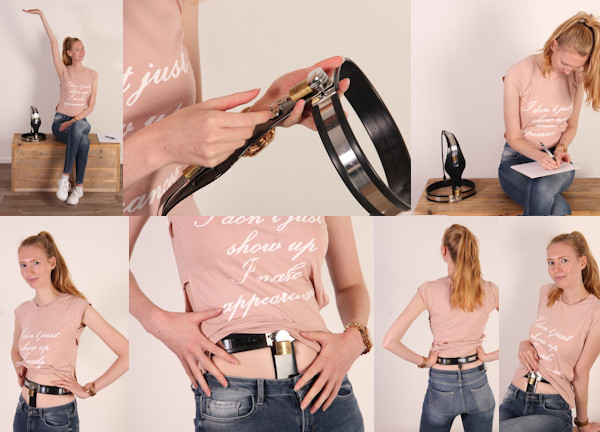 Locktober is going to be much more interesting with a few Deals at the same time. So, as a bonus for members, I asked local tall young girl Cassie (remember her?) if she was interested in a 7-day Chastity Deal. You know, just get locked and go home to live your life.
Well, Cassie finally arrived to sign her contract today. But she came prepared! She has actually taken a week off work to be able to do this. Not what I had in mind, but fair enough, her job is not the kind of job you want to be discovered wearing a chastity belt. Still, it would be exciting to see this cheerful vibrant young girl deal with a belt all week. I had a brand new belt for her, with a super small waist and tall crotch section, as Cassie is one of the most slender tall girls I have ever seen. The belt was custom made for her by Access Denied.
It was an amazing fit. I have sent Cassie home in a belt before, but this time she will be in it for a bit longer. She reckons it will be no problem. Cassie will send daily updates and selfies to report on her progress, and she will visit the studio regularly to get skin checks and hygiene breaks.
All cheerful tall young girls should be belted! It's such a joy to see Cassie in her super sturdy Access Denied. That slim waist with that big padlock, I like it! Let's see if she can make it!