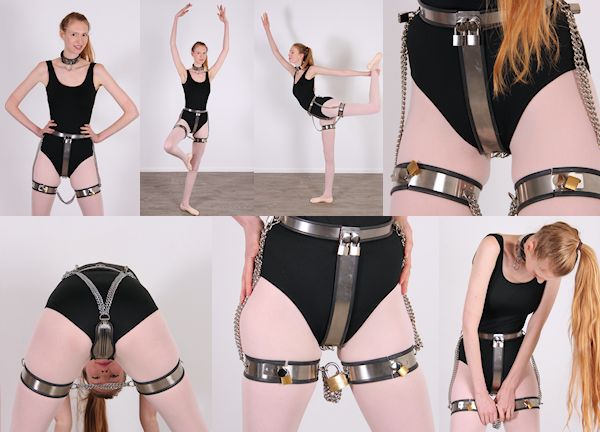 Local girl Cassie tried a chastity belt on this website some years ago when she was 19. She waited in the belt till her friend came to pick her up, and I challenged her to wear the belt home. She got in a big fight with this friend about how stupid she had been to go to this fetish Casting alone. Her friend did not like the chastity belt at all!
But I think Cassie liked it. She made some money and no one was hurt. I recently met Cassie again, she is now 22 years old and she may even have grown taller. She is well over 6 foot! She told me she is attending dance academy now and some of her classes are ballet classes. I commented on how hard that would be in a chastity belt. Cassie said she thought it could be done. A new Challenge was born.
Of course, Cassie was right, I have had several dancers and gymnasts in chastity belts here on this site. But she did not know about thigh bands. So when she was finally ready to show me her ballet skills, locked in a chastity belt and thigh bands, she was already a little bit angry. I did not tell her about the thigh bands beforehand, my mistake. Cassie tried to do some classical ballet poses and moves, but the thigh chain stopped her from showing off too much.
Cassie is a funny character, she gets angry quite fast, but it almost looks like she is secretly enjoying the silliness of it all. Especially when I decided to padlock her thigh bands together with a big padlock. The space between her legs was now even smaller and Cassie couldn't do any ballet moves. I told her she totally failed the Challenge, and Cassie pretended to be very angry. But I think she is still pretty excited when she gets locked in metal gear!
Maybe it's time for a serious Cassie Deal. Even though she won't do any nudity or plugs, it might still be worth getting her locked up for a longer period, as she is a local girl.