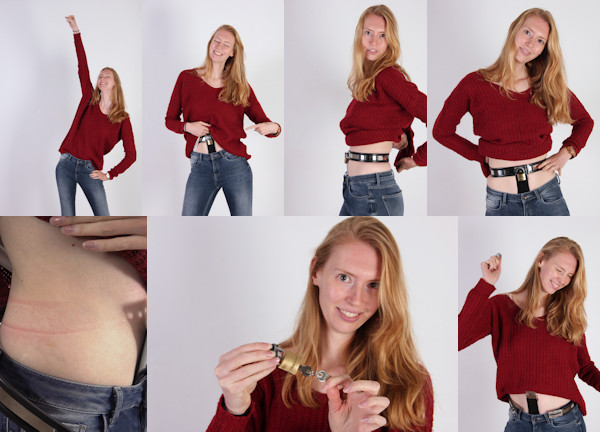 Super early this morning, Cassie already showed up at the studio to get unlocked. I was still very sleepy, but I seemed to notice Cassie gained a little bit of weight in this week? Maybe it was all the Netflix couch hanging. She is normally very active: horse back riding, and especially dancing. Cassie is actually a trained dancer in ballet and other styles.
It seems that she really had enough of the belt now. And not because of the reasons I usually hear from Chastity Babes (too tight, frustrated, horny, painful, gross)… no, Cassie just wanted her ability to move again! Wow. I checked her skin and the belt was indeed very tight. Tighter than 7 days ago (well 6 days, but let's not get into that).
Fair is fair: Cassie made it and she got her payment. It made her more than her regular job and she had a week off watching her favorite series. Not a bad deal for this young lady! If you want to spend a week in chastity and earn some money, you know where to go! It's not easy (not even for Cassie), so think carefully before you sign up!