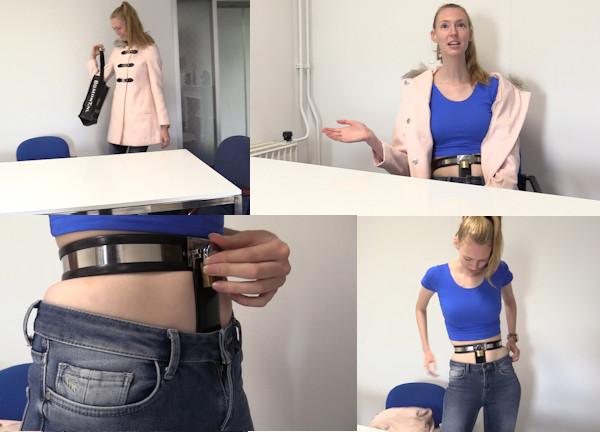 Cassie and I had a small disagreement over the contract. I intended her to be locked for 7 days. However, Cassie managed to find a loophole in the text, arguing she would get out ON the 7th day. I couldn't do anything about that, she was legally right. Of course, I need to fix my Chastity Deal contract asap!!
Anyway, it turns out even 6 nights in an Access Denied belt is already quite a big challenge! The only reason Cassie could do this, is because she took a week off. She was way too happy about this. Every time I talked to her, she said "Isn't it just great I get money for watching Netflix all day?". Very smug! I wanted to challenge her more, but there was nothing else in the contract. She will cruise through her Deal.
But the belt is tight and she already has big red marks on her waist. So I planned a hygiene and shower break in the middle of her Deal. Which now wasn't really the middle anymore, due to the contract loophole. She will actually get out in 2 days already. It was a good thing though, because she really needed to clean herself and the belt was too tight to even move on her skin.
Cassie is an active girl, she loves horse back riding, dancing, and moving all day. She got a bit frustrated with the belt, it was too limiting for her to really do anything active. So she was just lying down at home, watching TV. Well, that's what you get with home Deals. I can't really add any Challenges.
However, I did manage to shoot some pictures of Cassie today. Because this combination of blue crop top, jeans, and chastity belt, looks so amazing on this tall girl with her spectacular waist! Enjoy the video and picture set! I am 100% sure Cassie will easily make it, stay tuned for the final 2 days of Cassie in her Access Denied!