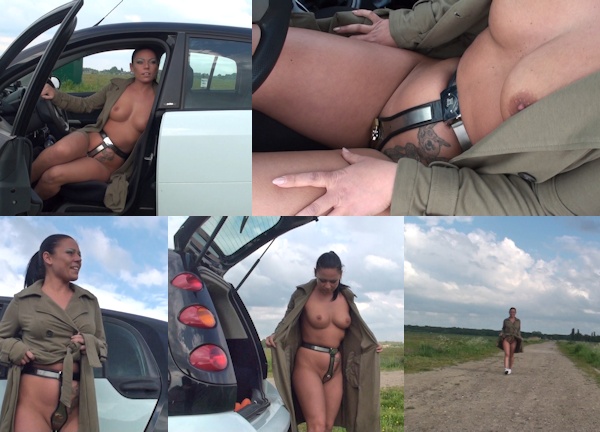 Melinda's trenchcoat is a fantastic idea for public chastity. It is so easy to open and close. She can lift it too, which works great if she turns around. My keyholder took Melinda by car to a remote location to film some outdoors chastity with her.
There weren't a lot of people around, but Melinda was still a bit afraid to show herself (at first). Whenever someone was coming, Melinda snuck back into the car. But she got more confident after a while, opening her coat all the way, showing her great body and boobs in public!
Sitting in a car, and getting in and out of a car seat, is one of the hardest things chastity babes have to learn. Melinda is very good at this already, maybe because she is such a flexible girl who loves moving around and dancing! The belt is super tight on her, and my keyholder did not always spot the rubber lining (it shifted a little because Melinda moves around a lot), so this was probably not a very comfortable trip for Melinda.
She did not seem affected by any of this! She is one of the most positive and happy girls you've ever seen, and I think she can be belted for a very long time if there is a good cash prize to be won. She is not too bothered by a tight belt, and she loves to be topless around the house! It's a shame I forgot to borrow a collar to the keyholder (along with the belt), but I think this fun Chastity Deal gave us some great videos!
Melinda wasn't done yet of course, she had a lot longer to go. After being belted in the little photo studio, the coffee break, and this car ride, she would go home with this keyholder for 4 nights. I can't wait to see if she was still as happy and bubbly at the end of the Deal!