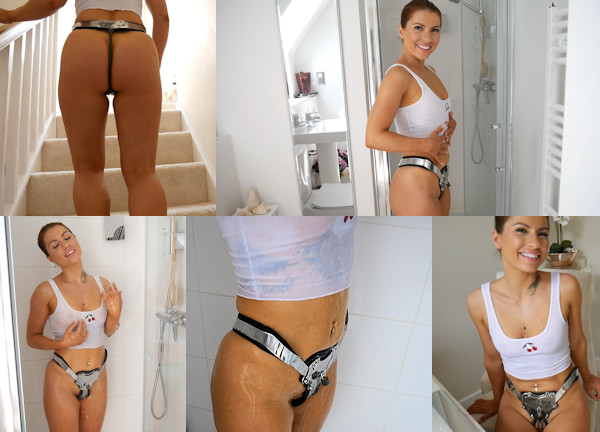 Wow, Alatna and Natalia Forrest did a really great job on the first UK remote Chastity Deal! Despite it being a scorching hot day, very rare in the UK, and some camera problems, Natalia and Alatna kept going and the 8 hours were almost over.
But Alatna was getting so hot in her belt, she asked for a shower, just to cool off a bit. Of course, Natalia had been instructed the belt couldn't come off, not even for a shower, so Alatna had to go in the shower wearing her belt. Strangely enough, she also kept her shirt on. I think it was her plan to make the shirt wet and cold for the rest of the Chastity Deal. Not a bad idea! It wasn't because she was shy on camera, because her boobs were visible right through the wet shirt!
Natalia is so cute, taking care of the models, telling them how to rinse and wash in a belt, handing them a towel, or just chatting to them to calm them down. I am sure girls would rather do a Chastity Deal with a female keyholder than with me! This is why I have my lovely assistant Anahi of course, she also helps out a lot with the girls.
Alatna was at the end of her Deal. She made it! She is so pretty in the Carrara belt, I am sure I would love to have her over in Holland for a longer Deal. Seven days sounds really good, to have this cheerful pretty girl around in a belt. And a bra. And a collar. And lots of metal restraints. And challenges under the belt. Oooh I can't wait!