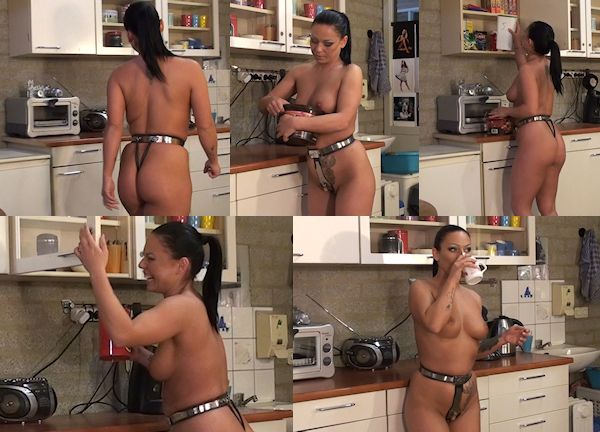 Melinda's keyholder wanted to take her outside right after she was belted, but Melinda said she wasn't going anywhere without having a coffee and a smoke first. She didn't care if she was filmed all the time, even though she was naked in nothing but her tight belt. She really needed a coffee first.
Finding the coffee was not easy in this photo studio, but after some searching she finally found everything she needed. She felt a bit silly but she didn't ask the photographer for help, and he just filmed her moving around the kitchen in her chastity belt. The music that is playing is probably Melinda's, because I can't understand the lyrics so I assume it must be Hungarian.
She also needed a smoke, so she basically has two addictions. But as Melinda said: "I don't care how long you will keep me in this belt, as long as I can have my coffee and smokes!". Well, we love her already! And it is true, she did not seem to be bothered by the tight belt at all! Melinda is very mobile, dancing around, walking, bending over… for a first time (well, a second time if you can MetalBondage) in a chastity belt she was doing great.
I am as curious as you are what is in the next updates, because the keyholder photographer is sending me the videos one at the time (very slowly). He said he had a great time as a secondary chastity host, and he would love to receive another girl soon! Also, I have had 3 or 4 other people offer their services as a chastity host, which is always useful if I receive an application from those countries. Thank you!