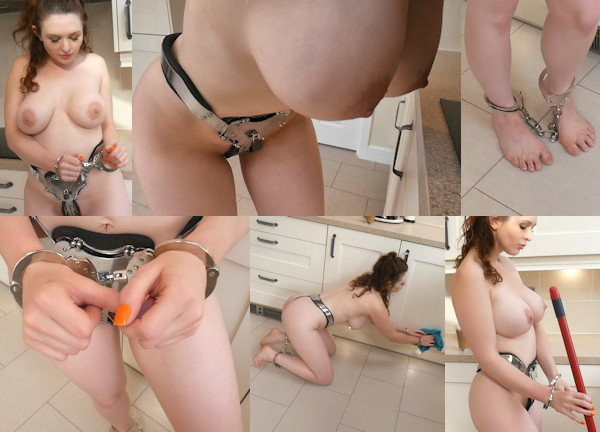 Perhaps Natalia Forrest is taking a bit too much advantage of her new role as my UK videographer. After interviewing the stunning Lizzie Bayliss, who was locked fully nude in a Carrara belt, Natalia locked her in handcuffs and ankle cuffs! Then she told Lizzie to make herself a coffee and then clean the entire kitchen. Bear in mind: Lizzie is Natalia's good friend!
I think Natalia just pretended it was all part of the Casting, and she got a really nice video of Lizzie cleaning her kitchen, so we can all enjoy that. And it is true: I have made models clean, just to see them move around in chastity. And Dominants of permanently belted models like Lizanne and Moni have been sending in cleaning videos too. I think it is a great representation of the submissive side, doing chores for your Master in chastity. Maybe if you do a really good job, you will get a reward?
But Natalia isn't really Lizzie's Mistress… she is just filming for me. She just thought it would be a good idea to have a clean kitchen. And while I agree we can never have enough video of Lizzie Bayliss locked in that perfect Carrara, I think Natalia might just be taking revenge for all those times I locked her in a belt. Maybe it is time to do a Chastity Deal with Natalia Forrest again, to remind her what it is like! She won't stop complaining throughout the entire Deal, I already know that!