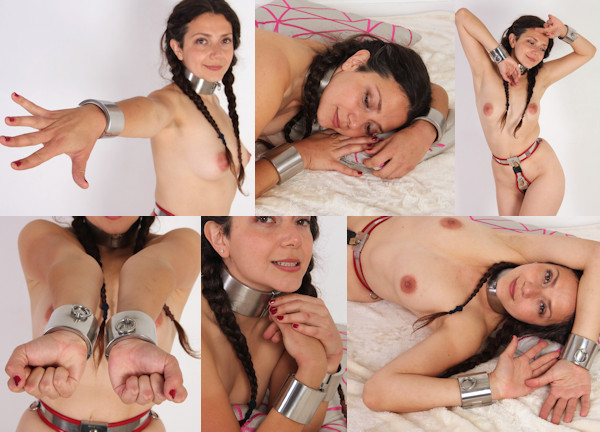 My lovely studio assistant Anahí has her own red My-Steel belt, as you know. It is a perfect fit, very tight, and she can't touch herself when she is wearing it. Whenever she works in my studio, she locks herself in her belt and heavy collar, and gives me the keys. Usually she is wearing clothes over the belt, but today I told her to relax and wait for a surprise.
So Anahí was just lounging nude in the belt, playing with her phone, until I came in with a brand new pair of cuffs! She has her own pair of cuffs already (which can be seen for example here), but these new ones are much thicker and heavier! Anahí was amazed by their weight. She really wanted to know how much they weighed, so we got scales to find out. It turns out they weigh 700grams per cuff! 1.4 kilograms together! It is quite a workout to wear these for a day. But Anahí is really tough. She can get used to anything, as she has proven by wearing her My-Steel for a month!
I think she will have no problems adjusting to her new cuffs, even though they are 4 times as heavy as her previous pair. I just think the thickness should match her collar, and now it does! I'm very lucky to have such a beautiful and open-minded asssistant. If you ever visit my studio, you will meet her. And she will even get you a coffee, wearing her belt, collar, and cuffs!