Updated TWICE a week: every Wednesday and Friday!
Donna's Deal

Donna has been belted (supervised cleaning and shaving breaks) for:
10% discount on a chastity belt!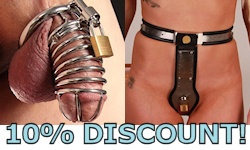 Email me
to receive 10% discount on any chastity belt from
www.steelbound.co.uk
or
www.chastityshop.co.uk
. OR receive a FREE membership to this website with your chastity order instead of the 10% discount! Your choice!
This is your chance to put yourself and/or your partner in chastity! Don't miss this limited time offer!
Archives

Recent Comments