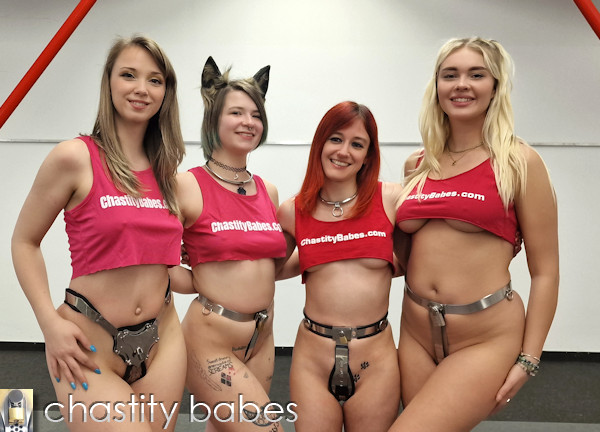 Last weekend, I was at the BoFeWo (Bondage Fetish World) convention in Germany again. If you have been following this website, you will remember I was there in October as well, with FIVE Chastity Babes in the ChastityBabes.com promo team!
This time I managed to lock four girls, and they helped spread the good word of female chastity around the convention. Little Missy from the UK was in the team again (in a Carrara belt), as well as Moni from Germany (in her own My-Steel of course). Cute goth girl Emily Addams from Germany had been in my studio before, and she really wants to become a 24/7 chastity belt wearer. Months before this convention, she ordered a NeoSteel and she picked it up from the NeoSteel booth at the convention! She was locked in it and I don't think she took it off again! Last but not least, I invited Denise (my Locktober Deal model) from the Netherlands to run around the convention with her amazing energy! She was in the Fetish Ironworks belt at first, but she soon got locked in a NeoSteel belt when she passed that booth!
It was a lot of fun, although it is hard to film any of the fun in a public space. The pictures are great and the girls had a lot of attention, which is always good! The more female chastity exposure we can get, the better! If you want to see LIVE Chastity Babes, be sure to come to the next BoFeWo convention in October!