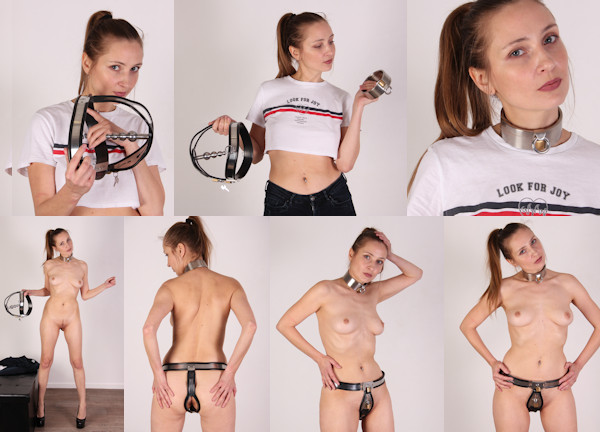 Not all Castings go very smoothly. Alexandra was not sure what she applied for, and she was very surprised by the chastity belt and collar that were waiting for her. Especially because there was a rather large plug inside of the belt, and Alexandra is only tiny!
Putting a plug in this small hip style My-Steel is very funny, the plug almost extends to the rim of the hip belt. It looks very scary! And the collar is a heavy 40mm SM-Factory collar, massive steel for such a small neck!
Soon, Alexandra found herself locked in these steel items for her 4 hour Casting. But she was clearly struggling with the massive plug inside of her. She almost keeled over in her tall high heels. I asked her to walk a little, it was very hard for her. She was VERY aware of the steel inside of her. Sitting down was even harder. She was moaning and sighing, it was very uncomfortable to her.
I told her the Casting was 4 hours, and she said it was absolutely impossible. She couldn't do it. I just didn't want her to give up that easily so I told her to put on her clothes so we could go to my house. Unfortunately, she only brought very tight jeans and a top, instead of a dress, so it was a huge challenge to get dressed. One of the hardest Castings ever!