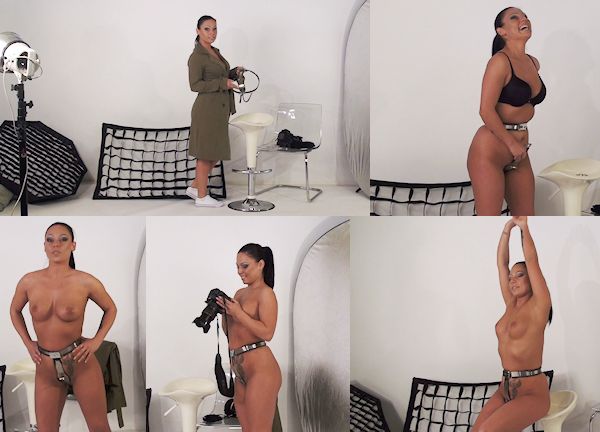 We don't have Hungarian girls very often! Last year, Melinda was belted for a few hours on a MetalBondage.com shoot, and I thought I'd never hear of her again, but apparently she found out about the Chastity Deals, and she really (REALLY) wanted to come to Holland to take the challenge and get belted and contracted. She was emailing me for months!
The problem is, I don't have time to host all these girls, as I have explained in the past. It is a lot of work even to host 1 girl. I have made several requests for extra keyholders/hosters in the Netherlands, and I finally found a guy who can take some of the girls off my hands! He is a photographer, so he has a little studio too. Instead of hosting Melinda myself, I sent her to the photographer and told him to keep her belted for 5 days. It is nice to be able to do a few Chastity Deals at the same time, as I was busy hosting Natalia Forrest.
Of course, it also has down sides, as I would have loved to see Melinda dancing around my house, and I was pretty jealous when I saw all the video footage that was shot. In the little studio, Melinda locked herself in the same belt she had worn last year, and she is in awesome shape. She is bubbly, friendly, and she moves and dances around. She has no problem walking around topless either! I know she really needed the money, so she would never give up. It would be an easy Deal for the photographer to manage, although he did have to give her supervised toilet breaks as the chain style belt is not really suited for (all) toilet visits.
I'm looking for a few more reliable Chastity Deal hosts. If you are interested, send me an email! You will have to have a HD video camera at least, but you don't necessarily have to live in the Netherlands.