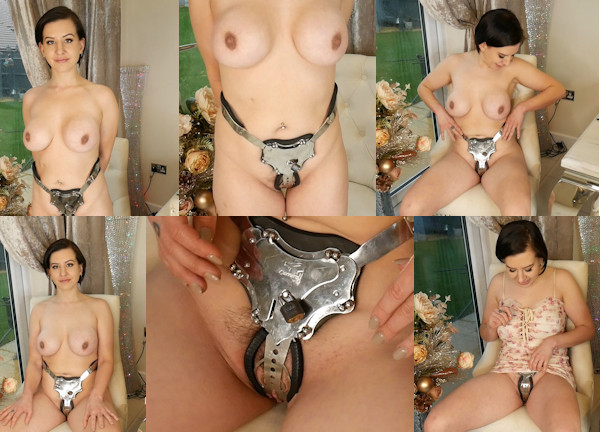 Giving a Carrara to Natalia Forrest was a brilliant move. She knows a lot of world class models and Natalia loves locking them in the belt for Castings, getting them interested in coming over to me for a real Chastity Deal!
Like her friend Tindra Frost, the famous Icelandic glamour and adult model!! Wow, who would have thought I could have her in a belt on my website! Thanks to Natalia's relentless Casting spree, we can now see the genuine reaction of Tindra getting locked in a chastity belt. Natalia's interview is really funny and it makes the girls feel very comfortable. The belt is very comfortable as well, so that helps. Sometimes, Natalia scares them a bit with her own stories (she has done long Deals with plugs, thigh bands, etc) but in general, she makes them feel at ease, locking them for a few hours so they can get used to the idea.
Tindra is of course spectacular in a belt. She reckons she can do a longer Deal, as the main problem for her wouldn't be the discomfort of wearing a belt. Anyone who has ever seen her work will know that she will have more problems with not being able to touch herself! As Natalia remarks: 'Tindra is a bit too horny to be locked in a belt'. Well, that's great, it makes the Chastity Deals much more fun when a girl gets a bit frustrated!
I can't wait till the world returns to normal again, flying some of these Natalia Casting models over to offer them a real Chastity Deal. Tindra, Kacie James, Lizzie Bayliss, Pippa, Scarlot, Faye, they are all waiting to get a chance to make some cash in Holland! Let's hope I can meet them soon!