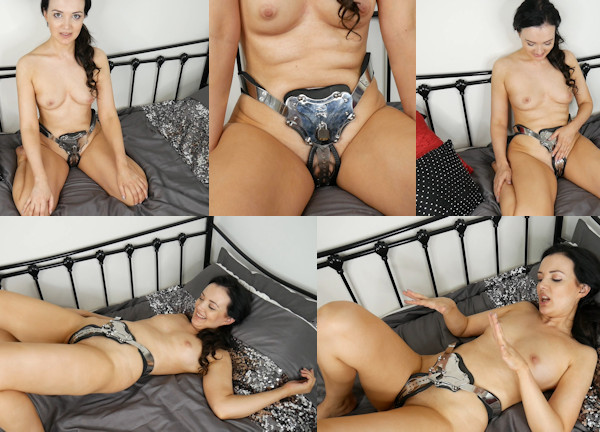 Natalia Forrest is still in charge of my UK operations! She has a few belts over at her house and she keeps inviting her friends to do Castings and test shoots for me. And she has some famous friends! All of Natalia's friends seem to be very pretty UK glamour models, and I definitely don't mind to see see them all try out a little time in chastity. It means it is easier to invite them over to Holland for a Chastity Deal weekend and that's all that matters.
Faye Taylor was visiting Natalia, and of course she knew something was up when Natalia got all secretive about what they were going to do. Before she knew it, Faye was nude and locked in a Carrara belt. It always takes a bit of time to get used to the restriction of a belt, but Natalia pointed a camera straight at her face and started interviewing Faye before she even could get used to the feeling of wearing a chastity belt.
Natalia is a very funny interviewer, and I love to see how the girls get very comfortable with her, telling her much more than they ever would admit to me. Natalia has been friends with Faye for a long time and you can hear it in their conversation. Faye is a really tough girl, she loves bondage, fetish, and she likes public display. So she reckonds she would have no problem wearing the belt for a few days, going outside, and doing her daily things. But when the girls start talking about hygiene, showers, and baths, it makes them stop and think. It's not going to be very easy, is it?