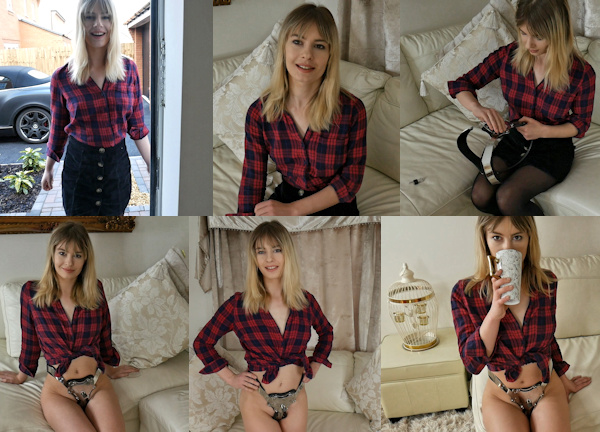 Since I have been so busy hosting all these girls here in the Netherlands for Chastity Deals, I was looking for someone to do some Castings for new girls. I thought it would be a good idea to get one of the Chastity Babes to do these Castings, since they know what they are talking about (from experience) and new girls like it when the Casting is done by a girl.
So I sent a Cararra belt to my friend Natalia Forrest, who is one of the top Chastity Babes on this website. Natalia actually hates chastity belts, but surprisingly she was very keen to film some Castings for me with new girls. And here's why Natalia is so good at this: she knows a lot of HOT girls! For example, this new girl Pippa would probably not have come to Holland if I had emailed her, but she drove all the way to Natalia's house to get belted.
Natalia is very welcoming and chatty, so she can make girls feel comfortable. She makes them a drink, talks to them about what a Chastity Deal is, and she prepares the girls to come to Holland at a later date. Perfect! Of course, it is only a Casting, but getting these hot girls in a belt and making them realize there could be a lot of money involved usually gets their interest. A Casting with Natalia just is an easier way to get used to wearing a belt.
Pippa is so pretty! She did great in her belt, and you can definitely see her relax more as the video progresses. Natalia was instructed to keep the girls in the belt for at least 4 hours, but Pippa said she could maybe do 1 hour. So Natalia had to work very hard to make this girl feel comfortable enough to spend the afternoon at her house. She made Pippa a nice coffee and put on some Netflix, anything to keep Pippa belted for her Casting!