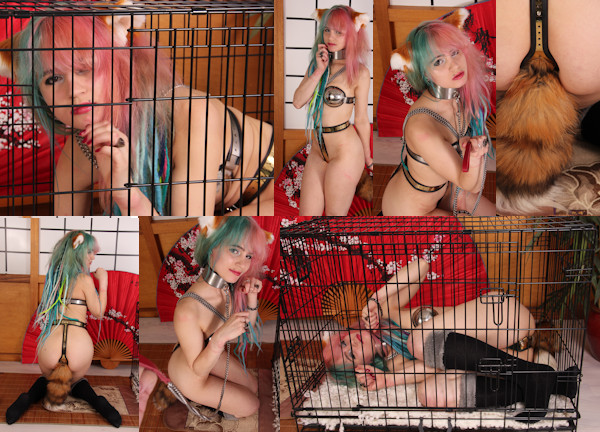 Do you remember gamer girl Lucy Elena? She applied to get belted two years ago, and she even got cuffed and collared. Recently, I received an email from her, she is now into cosplay, particularly cute pet play, and she asked if her new fox ears and buttplug fox tail would be any good for this website. Of course! I love cute pet girls!
And Lucy Elena probably is as cute as they get. With her charming smile and her naughty pet behavior, she really gets into her role. Also, I did not expect this cute young girl to own an actual buttplug, but she did! Lucy said she wears it all the time, as she loves being a pet so much during the cold winter months. I locked her in a bra and chastity belt, and made her sleep in a pet cage.
Lucy loved her time as a chastity pet! She doesn't speak in this role, but she indicates what she wants by pawing (the food bowl, the cage door), it is very cute indeed. She was even leashed for a while. I really want to keep her!!