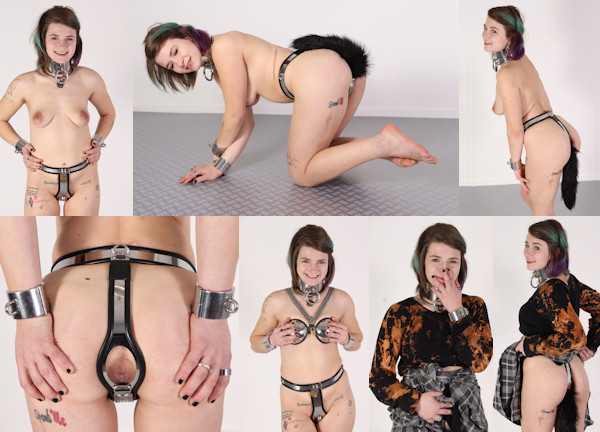 Cute pet girl and naughty goth Emily Addams from Germany wants to be in chastity 24/7. She actually commissioned her own belt from NeoSteel, which she picked up at the BoFeWo convention this month. She started to wear it right away, determined to train herself to be in it 24/7. I am excited to follow her training and I love her urge to be locked. She is a real Chastity Babe!
So what inspired her to get her own belt? Well, maybe it was the fact that she visited me in January, where I locked her in a NeoSteel for quite some time. Emily loved it very much! Maybe it was her first experience with a real belt (a good brand), but I think she had the idea before visiting me. Coming to my studio was just part of her journey to, just like Wetnesday did in February. I really like all these new chastity girls with determination to get used to wearing a steel locking device. It takes a lot of commitment!
So here is the original Casting from January with Emily Addams. I locked her in a NeoSteel, a chastity bra, huge steel collar, and cuffs. She also insisted on wearing her fox tail butt plug. Isn't Emily just the cutest! She is available for custom videos too (in her own Neosteel of course)!!