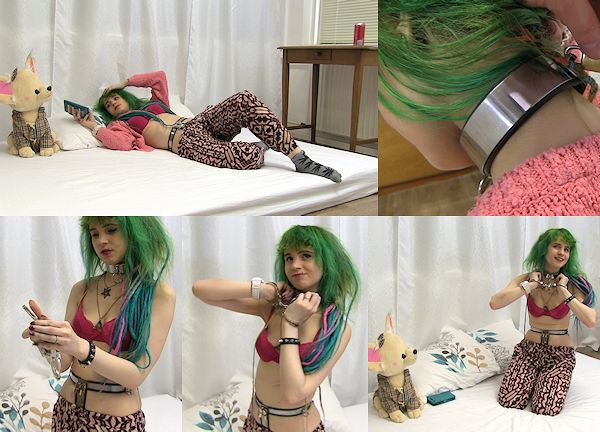 Cute gamer girl Lucy Elena applied for a Casting, and I immediately invited her over! We haven't had any gamer girls in chastity yet and I love her style! Lucy did a photo shoot in a tight chastity belt, and now she had to wait for a few hours to be unbelted. I always make the Castings a few hours long so the girls can really get used to their belts.
Lucy Elena is a tech girl, so spending a few hours in the studio was no problem at all, as long as she had her phone! Her phone is literally her life. I made sure she had a drink and left her in her belt, with a camera running. After a while I went to check on her and she was still pretty happy, although she said the tightness of the belt made it hard for her to relax.
Still, I thought that she had it far too easy. Her shyness was gone and it was time to make her stay a little bit more challenging. I locked a collar onto her neck (which looked amazing on her by the way, it totally fits her style!) and then I gave her a pair of handcuffs. By her reaction, I could tell she had never seen a real pair of cuffs before. She did not even know how to open them. I made her lock the handcuffs on her wrists, joking that I wasn't sure I had a key for them (which startled her again), and then I even locked her wrists to her collar! I was afraid this would go too far for the inexperienced Lucy, but she actually said she liked the predicament!
I left her again, but I couldn't wait to review the static camera footage, because I love to see how girls deal with limited mobility! Lucy Elena did so great on her Casting, I wanted to do more with her, but I had to let her go home. I will definitely get her back for a Chastity Deal if you like her too, but I'm not sure if she fully understands what that means. I will have some explaining to do, so she knows what will await her!