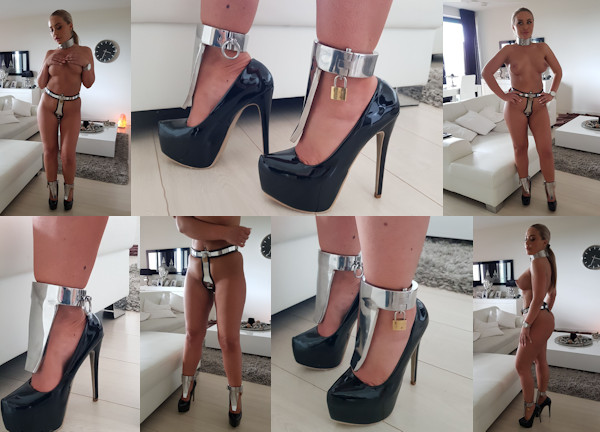 In January, I did a Casting with Dutch girl Aubrey. She looked so amazing in the belt!! Of course, I offered her a Chastity Deal straight away, and I recently went over to her place to lock her up!
Aubrey is so easy going, it is fun to lock this beautiful girl in steel, she really wouldn't complain. Back in the belt (that butt!!!!) and collar, I told Aubrey she would have to spend the rest of the day locked up, doing various Challenges for ChastityBabes.com. She was excited!
The first Challenge I brought for her were a pair of brand new High Heel Enforcers. These devices are prety evil: they make sure you will wear high heels at all times. The heavy metal shape points the foot downwards, so you can not stand (let alone walk) without wearing high heels. These are really very evil! It will hurt so much trying to stand in these devices, you will not even attempt to stand or walk. They lock onto the ankle as well, so you can't take them off.
In other words, Aubrey HAD to walk in heels in her own house, wherever she wanted to go. Only if she would sit down, she could take off her heels, but her feet would stay pointed downwards all the time. These solid steel high heel enforcers are very heavy and tight. I think they worked very well and I was very excited to see them locked on Aubrey. She wasn't so easily defeated though, Aubrey is positive and I feel she will take on every Challenge I throw at her, so this would be a fun Chastity Deal!