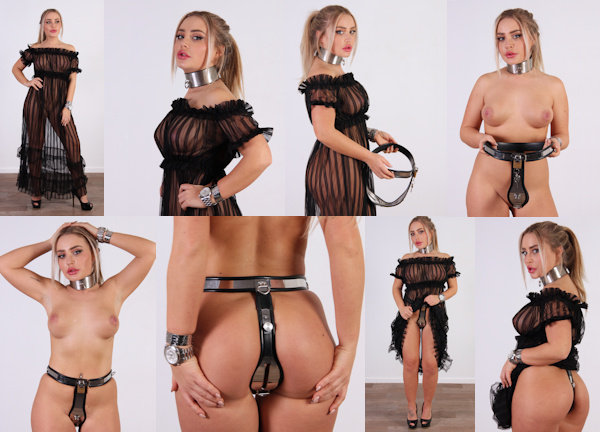 Dutch girl Aubrey 'accidentally' did a MetalBondage.com shoot almost 2 years ago. She is a hairdresser who was incredibly intrigued by metal restraints and bondage. I have been trying to get her in the studio for a chastity belt Casting ever since! Aubrey is gorgeous!!
Today, you can finally see her getting locked in a chastity belt! I left a camera running during the photo shoot, so you really can view the first time she gets handed a NeoSteel belt and tries to put it on. I also locked her in a big collar, because I think small collars wouldn't look very good on Aubrey. Funnily enough, Aubrey was very relaxed, even when she was completely naked in front of the camera.
She told me after the shoot that she would love to come back for more time in the belt, she thought it was very interesting, if not a bit tight. She was right, the belt was an amazing fit for her stunning body. There was absolutely no way she could get a finger in anywhere! I have never met a local girl who is so open minded, relaxed, and stunning! She could definitely be a model!
I think it's time to think about a Chastity Deal with Aubrey, a weekend with her in the NeoSteel would get us some very beautiful videos. Her English is perfect, so it will be nice to hear her thoughts and experiences during her Deal! What do you think? Offer her a Deal?