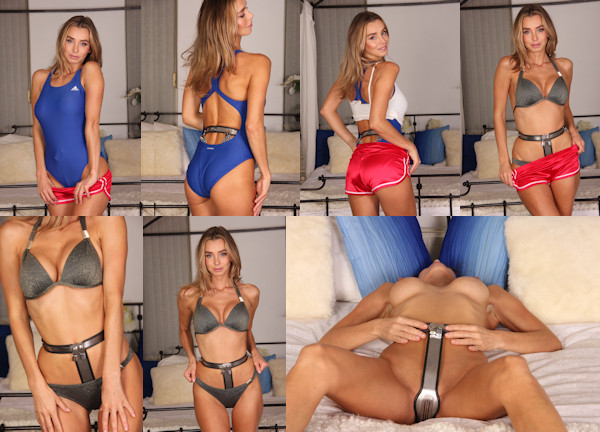 Here is a custom request of a member who wanted to see Dominique trying out a bikini and then a swimsuit to see which would hide the belt best for a day to the beach. He requested Dominique to cover everything up with shorts and a top at first, before revealing the swimwear underneath.
Obviously, the bikini left her belly exposed, clearly showing the waist belt. That is a good choice for the beach, if you do not care about people staring at you. Dominique wasn't too sure about it, so she tried changing into a tight blue swimsuit. It covered the belt very well! At least… from the front. There was a big cutout in the back revealing the waist belt. Maybe it would work if she would lie down on her back at the beach.
But Dominique didn't seem to be happy with either choice. She just wanted the belt off! She got naked and started tugging on the padlocks, but the belt wouldn't budge. We had a lot of fun filming this custom request! If you have a custom request, you can always email me at webmaster@chastitybabes.com, even if you are not a member of the site! We will happily film it for you!