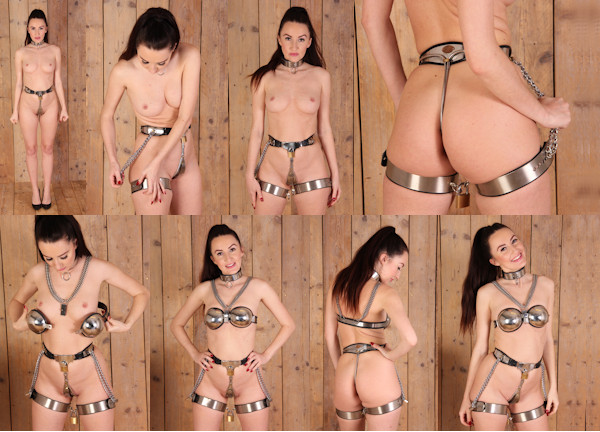 Remember Sophia Smith?! Over the years, she has done a Casting, a prison session, and then she was locked in lots of metal as my personal maid! And when I finally gave her some time to rest, it was in this awesome metal spread eagle position.
Sophia is gorgeous and very very tough. She can handle anything, including strict bondage positions and wearing tight metal for a long time. I have always been interested in getting her back, because there was one thing she had not tried yet: thigh bands! So a few months ago, I invited her over for some new Challenges in FULL chastity, and she said yes immediately (as expected).
The Chastity Deal was getting locked for a day in full chastity, including some fun Challenges and a shoot for MetalBondage.com, without taking off any of the gear. Except for small supervised toilet breaks. Sophia was in it for the prize money, and she said she will not give up, no matter what! Interesting! This girl is elegant, classy, gorgeous, AND she loves bondage gear. I need to invite her more often!
First, I needed to get her in as much gear as possible. Since she had been wearing a FancySteel that fit her so well (and super tight), it was the best choice for this Deal again. Especially because it has rings on the sides so I could attach thigh bands. The bra was also very tight, Sophia said she couldn't take any deep breaths, but she would be fine. She looked amazing in her metal armour (check out the big picture set included with this update)! Very well protected, unable to touch herself, and no keys anywhere near. We were going to have so much fun!