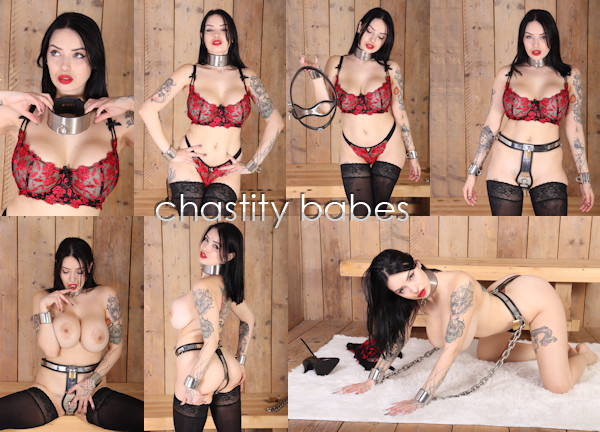 This model has been on the top of my 'to-shoot' wish list for years now! I finally managed to lure the busty and awesome Ruby Alexia into my studio to try on some metal gear!
This was very epic, I have to say! Ruby is so much fun to work with, and she really loves to explore kinky stuff. I had her locked into a collar and cuffs quite soon, while she curiously examined the NeoSteel belt that I had put on the bench next to her. She took off her beautiful lingerie so I could lock the belt onto her, and she looked spectacular in her metal gear!
Ruby loved it as much as I did, and she took lots of selfies. Of course, a standard Casting is four hours, something I didn't really explain very well (perhaps), but even when I told her, she didn't seem to be bothered. The first thing she did is take off her shoes, stockings, and bra 'so she could relax'. No problem! I was curious to see if she would adjust to the belt quickly.
After a while, I came back to lock heavy chains from the belt to her wrists, but even then she was very relaxed, making jokes and just chilling on the floor. She told me she had been wanting to try my gear for ages, and she felt so comfortable in steel! A perfect day!