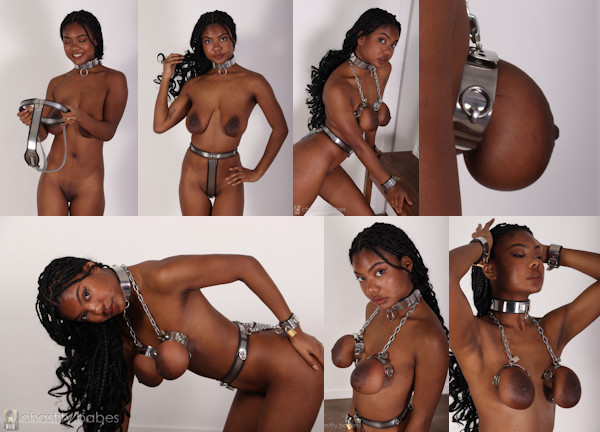 Young Cleo wrote me, she was wondering if she could be a model for my studio. Of course! I invited her over for a little Casting shoot, and she got completely naked right away! Cleo is definitely not shy!
Her big elongated boobs immediately caught my attention. She would be perfect for boob bands! More metal locked onto her body (like she wanted) and it would even give her perfect support for her heavy breasts. I found a pair that were perfect for her! As if they were made for Cleo… which they weren't because they were made for Stella Cox, as you might remember. The fun part was that Cleo really went into submissive model right after being locked in all this metal. She felt she should kneel, 'because she did not have the keys'. I think that's really awesome. Something was triggered in her, and I think Cleo will be a great Chastity Babe for longer Deals, with locked boobs of course!
She is so comfortable in metal, you would think she has done this before, but this shoot was really her first time in chastity. Enjoy the picture set and video, and leave a nice comment to encourage her to come back for a long Deal!!