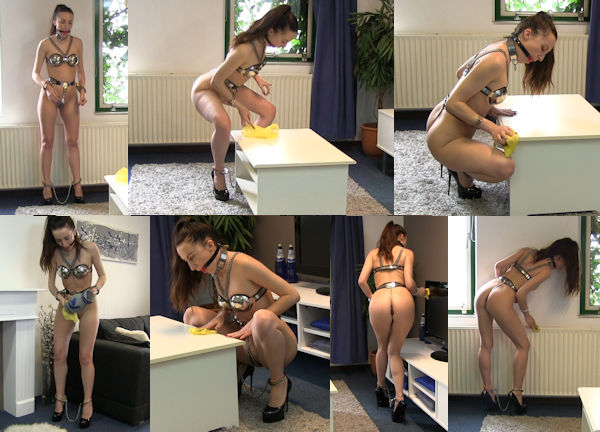 The gorgeous Sophia Smith was back in Holland for a little while. She was shooting for MetalBondage.com, where she ended up in a tight FancySteel belt. This gave me an idea. Basically the idea was not to let her out of the belt (always a good plan).
Instead, I locked on even MORE gear. A chastity bra, leg irons, handcuffs to the sides of her belt, and a super tight ballgag. Plus her belt and collar of course. In all of this gear, Sophia could barely walk or move. The very tall high heels and the leg irons made it hard to balance and picking up things with your hands locked to your sides is even harder.
A perfect setup for a Challenge! I made Sophia Smith clean the entire apartment. Watching her move around in heavily restrictive gear was a lot of fun! She moaned through her gag with every step, trying to keep her balance, but Sophia is very tough, she was determined to complete her task!
I should probably invite her over more often, she is awesome, very beautiful and she will take on any Challenge in any gear I want to lock onto her. Of course, I did not let her go after this cleaning Challenge, I had some more ideas for her stay in Holland. Got to make the most of it!