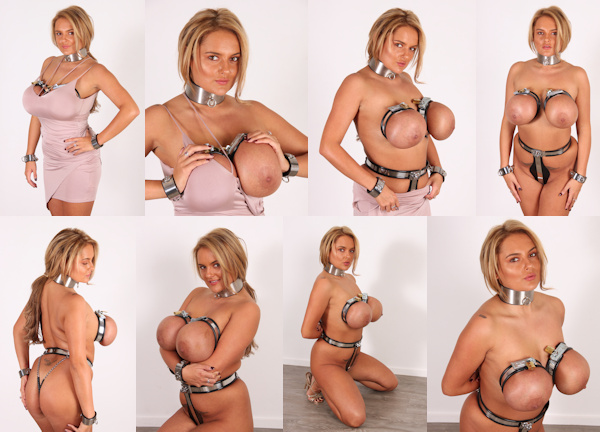 Remember when I managed to get Katie Thornton locked in a chastity belt? It was great to see her belted, but her gigantic boobs did not fit in any chastity bra. Not even in the biggest custom made chastity bra that I have! Katie was very happy about it, she gave me the finger and she thought she had won. No bra for her!!
Katie's boobs are so huge they have their own zip code. She is just spectacular, and I really wanted to lock her boobs up. So I designed these boob bands just for her (you may have seen Katie wear them on MetalBondage.com before). They are locking metal bands, with a big clasp and padlock. Once they are locked on, Katie can't take them off without the key. Sure, she can still touch her nipples, it is not as good as a chastity bra, but Katie is so unique… this might be the best solution for her.
This time I got a super chastity belt for her too: a perfectly fitting Access Denied! Katie is also locked in a collar and wrist cuffs. All these locked items can not be taken off without their keys. Katie was starting to feel a bit more submissive this time (maybe the collar helped), so I made her strip out of her dress and to my surprise she kneeled down with her arms folded behind her back! Something tells me Katie is a bit more kinky than we all think! Who wouldn't to have a slave girl like Katie! It is a fantasy, but I got her in my studio for a few hours, holding her keys. That was pretty awesome!