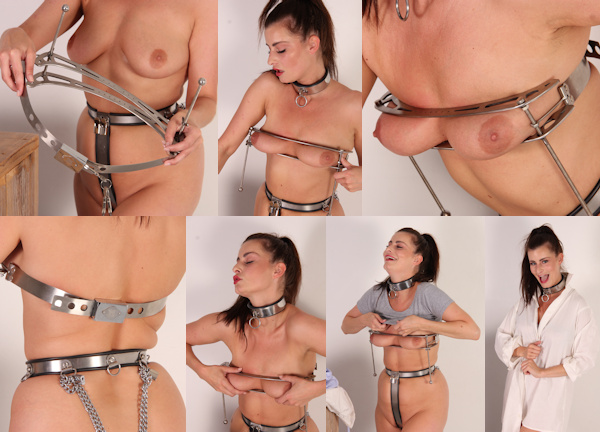 Nelly is always a good victim for my latest ideas! This version of a locking chastity bra is a boob press! It can squeeze the boobs tightly and it locks in the back with the standard chastity cylinder lock, so there is no way Nelly can take it off.
It looks great on her! Nelly is crazy enough to try walking around with a boob press for a while, but the problem is finding suitable clothing! Her short tops wouldn't work, and a dress didn't work either. She had to find a huge white blouse to hide all of this metal if she wanted to go outside with her boobs being squeezed. Nelly is so much fun, we always have a good laugh and she will try ANYTHING!
I think the boob press will definitely need to be in a future Chastity Deal. Especially if there is a model with natural boobs that are too big for a standard chastity bra! Please comment below if you have a girl in mind for this!