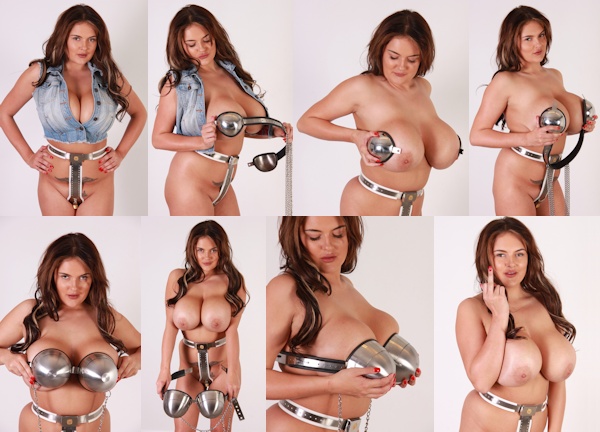 There's good news and there's bad news: The good news is that I got Katie Thornton for you! The legendary busty British babe is locked in a nice chastity belt with white lining! So far so good. The bad news however, is that Katie Thornton can not be locked in a chastity bra! She has a secret weapon (or rather: two) that protects her from being locked in a metal bra.
Hmm… Katie did not seem too disappointed about it. She was gloating and even gave me the finger. She was happy her massive boobs did not fit in any of the chastity bras I own. We started with the smallest one, the A cup, which simply looked ridiculous on her. Then the standard B cup bra, which does not even begin to cover her boobs. Finally, I had to get out my HUGE custom made F cup bra, but even that one was too small for Katie's huge double G cup.
I guess Katie will not be able to do full Chastity Deals here, but seeing her in a belt (and possibly thigh bands) would already be very nice. She is such a nice person, and she is very interested in making some extra cash by signing a Chastity Deal contract. Perhaps, if she is really popular with the members, I could try to get a custom chastity bra built for Katie. That would be seriously heavy (adding to the tremendous weight of her boobs), so that will be quite the challenge for her!
Meanwhile, maybe I shouldn't complain that Katie doesn't fit in any of my chastity bras. The sight of her boobs never ever gets boring, so maybe it would a shame to cover them up!