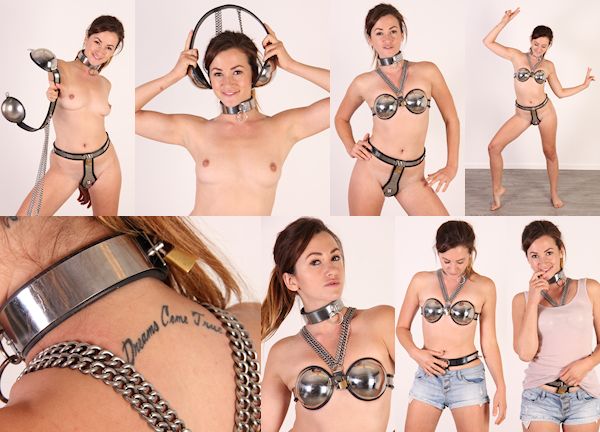 Tess Lyndon is back! Newer members might wonder who she is or why it is such good news, but regular visitors will remember her from the amazing Latowksi Challenge (part 1, part 2, part 3). I borrowed the only female Latowski prototype belt in existence straight from Latowksi themselves (and the bra too). It was a prototype and too uncomfortable to use for a longer Deal (as this belts needs to be created for the specific person to be locked in it), but Tess did an amazing day (and night) in the belt! Although the updates were released in 2016, I only had the belt for a brief period in 2013-2014, which is when we did Tess' Latowksi Challenge.
So FOUR years later I get an email from Tess, if she can come back to stay at the Amsterdam apartment. I asked her if she remembered that she will be in chastity in exchange for the free accommodation, and she confirmed that wasn't a problem. Of course, it wouldn't be the Latowski this time, but she would be spending some quality time in a belt for sure. When she got to the studio, I was amazed. She looks exactly the same as 4 years ago! Maybe even better! She has a tattoo on her back saying 'dreams come true', I don't know if she had that last time.
Anyway, the tattoo was perfect in combination with the chastity bra I locked her in, along with the NeoSteel belt and a locking collar. Tess was happy to be back, a little nervous, and full of positive energy! She was ready for her Challenge… because obviously I had to add some difficulty to her stay, to celebrate her return to ChastityBabes.com!