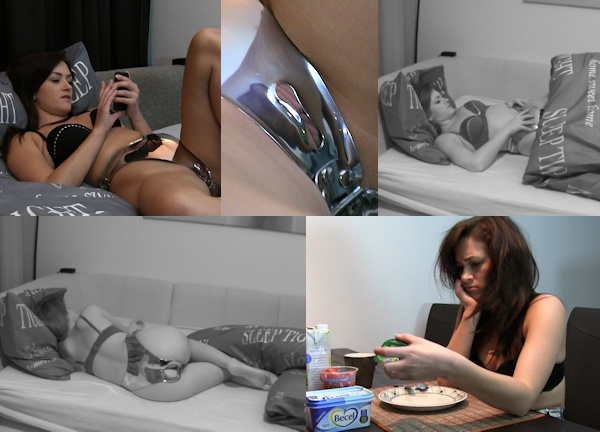 This could be such a cool movie title: 'a night in Latowski'. Oh wait, it is a movie (kind of)! Check out this week's video of Tess Lyndon trying to sleep in a female Latowski chastity belt. She is probably the first girl in the world ever to try this! And you can see it here!
Well, let's just say it wasn't easy. Tess did not get much sleep in her rigid lower body shell. The metal is pretty thin without any lining, and the whole belt shifts on her body which makes it dig into her legs and hips. Needless to say, this is a prototype belt, so it wasn't designed for long term wear (or any wear at all, in fact). This is not even a real Chastity Deal. It's more of a Challenge. And Tess was determined (yes, because of the money). After all, what is one night sleep?
In the morning, Tess certainly looked a bit dishevelled. No sleep does that to a girl. She wasn't speaking to me at all, but I've noticed more girls do that in the morning (the so-called 'get lost with your camera' look). I'm probably a bit weird, but I think Tess looked amazing! The belt was such a good fit for her! There was absolutely no chance for her to get it off without the key. And that's what it is all about. Now if Latowski just would commit to developing this a bit further, with a secondary shield and some lining, it could be a winner! The only problem would be that these belts would have to be custom made for each individual Chastity Babe, making it too expensive for me, unless I pick one babe to be locked in Latowski for a long term Deal.
We can dream… there don't seem to be any plans to develop a female Latowski line, and the prototype has been returned to Latowski a few years ago. Sometimes I wish I still had it. It is so awesome!