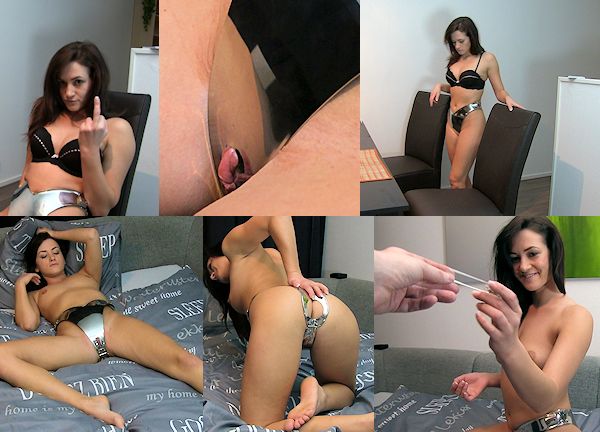 Tess Lyndon did not eat much for breakfast, I guess girls in chastity eat a lot less. It was like her mind was somewhere else. She was sliding down on her chair, pushing her labia through the belt. She was feeling the belt, adjusting it, walking to the kitchen and back… I don't know what was going on. Well, me being there with a video camera probably did not help.
She finally retreated to her bed and without saying anything, she removed her bra and started to play with herself. Or at least, she tried to. The belt may not be perfect, but it stopped her from doing what she usually does in the morning, so I guess it was effective. Tess was getting more and more frustrated by the hard shell belt locked onto her body. The padlocks were completely hidden inside the locking systems on her hips, so there was nothing to pry, no locks to tug at (which most girls do when they are in chastity).
Yes, I think there is some work to be done for Latowski to make a perfect female belt, but it is just so beautiful!! After watching Tess for a while, it was time to give her the key, unfortunately. She made it, but she did not get any sleep or food. But for such a short Chastity Deal, that is perfectly acceptable, she made up for it the same afternoon by sleeping, eating, and probably masturbating too! Tess is a cutie, I might have to see how she is doing nowadays and invite her back for more fun!