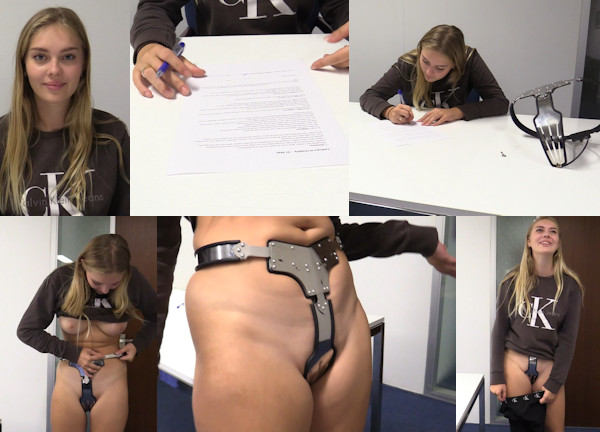 Locktober starts today on ChastityBabes.com, and Denise is this year's model! She really wanted to do it so bad, I couldn't refuse! The 19-year old submissive from Holland is local to me, so it's easy for checks, cleaning breaks, and emergencies. She is so energetic and positive, I think she could make it!
The first belt in this Chastity Deal is the unique (one of a kind) prototype from Fetish Ironworks. Denise has worn this belt before, so I picked it because I was sure it would be a good fit. It's comfortable and tight on her. Of course, I might switch to other belts (and predicaments) later this month, but for now this seems like a good choice to contain young Denise's urges.
The obligatory contract signing happened today, and Denise agreed to keep track of her progress for everyone to see. She created this Twitter account: @SubWetDenise on her phone to post her daily selfies and updates.
I think she was maybe a bit TOO confident in signing this 31-day Deal. There's a few things she didn't think about, but the main issue could be that she didn't tell her boyfriend she was going to do this. I'm sure he could live with Denise's oral skills for a month. Let's hope so!
I am very happy with this year's Locktober girl. Even if she doesn't last the entire month, it will be lots of fun!