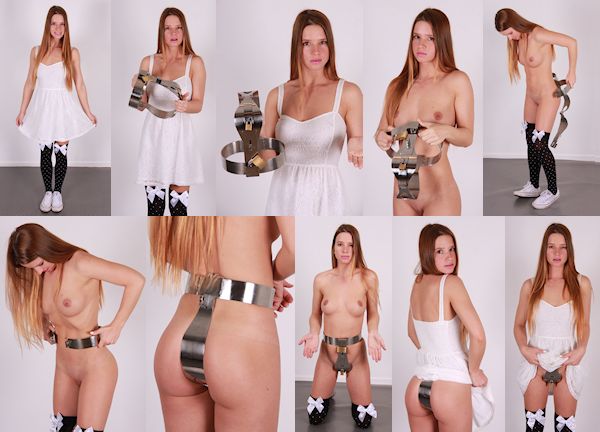 Well… I have about 5 or 6 super heavy steel belts to use for MetalBondage.com. And I can't stop designing new ones. So this week I received another finished belt from my metal worker. It is amazing! Very heavy solid stainless, with secondary shield, anal opening, protected padlock and adjustable crotch strap.
I have always wondered if such belts are suitable for a Chastity Deal. The weight is enormous, and there is no padding or lining. The belts are not flexible at all, so it would have to be an exact fit! I really wanted to test the newest belt, so I started thinking who to invite. A huge heavy steel belt would be a nice contrast with a young cute girl (I love contrasts), so I invited the incredible 19-year old Jessica back to the studio!
Who remembers Jessica? This shy young girl is so pretty! And she has the best body (and ass) you have ever seen! She is a pure submissive, so when I emailed her she thought she had no choice. That was not my intention, but hey, she showed up in the studio, not knowing what was waiting for her.
Jessica's waist size is perfect for this belt! I adjusted the crotch part to make it very tight, and it kind of worked! The belt still needs a little modification in the shape of the primary shield, but it was awesome to see Jessica locking herself into this contraption! It is so heavy, and there was nothing she could do to get this belt off her body! The ass curve is so perfect, it really matches Jessica's bubbly round butt! There were no real problems, no hip pressure, no digging, so I told Jessica to put her dress back on! So perfect!
By the way: Jessica has asked me if she can get a Chastity Deal in pink bra and pink belt to make some extra money (she is a student), what do you think?