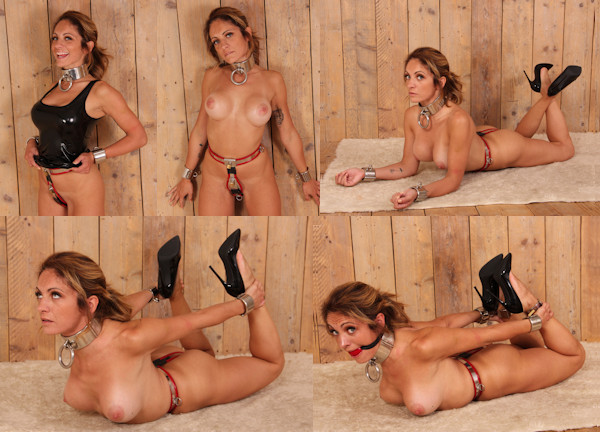 Yessss I got Alba Zevon in chastity! The famous Italian bondage star came to my studio to hang out and shoot with some of my gear, so I just had to lock her in a chastity belt!
Alba is a tiny lady, and my red My-Steel belt was a perfect fit for her! I also locked her into a very heavy steel collar and wrist cuffs. Alba loved it so much! She thought it looked incredible. This girl loves TIGHT things and the belt was super tight on her waist. She tried bending over and moving around a little: it all felt fine and she was very comfortable in the belt.
I was excited to have her in steel for a while, but I still wondered if she could do her favorite position: the hogtie. Alba said she was very curious to find out if she could, so I locked her in a steel hogtie, with a big ballgag of course. Alba is usually tied with rope, so this was quite new for her! The heavy and tight steel felt incredible, she said when I finally released her from this position. I am sure Alba would come back for a Chastity Deal, to spend a bit more time in this belt. She just loved the feeling (and the look!) so much, I think she needs to be belted more often!!