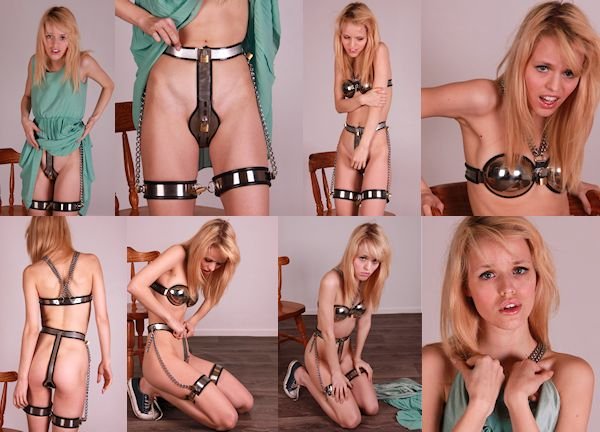 20-year old Rosie from the UK wrote me about her fantasy of being locked in a chastity belt. She was wondering if she could come over to try. She sent me a picture of herself with her email and I had no doubt in my mind: this girl needs to be in full chastity as soon as possible!!
The awesome cuteness of Rosie in contrast to tight locking metal on her tiny body, it was such a beautiful thing to see. Rosie's big eyes were full of wonder when she saw the chastity belt and bra for the first time. I made her hold the camera so she could introduce herself and the gear she was going to be wearing. Her face is just so innocent! And innocence is what chastity gear is for, right?
I think with Little Caprice, Cassie, Jessica, and now Rosie, I definitely have a cute streak going. Don't worry though, everyone is over 18! It's just great to see girls like Rosie interested in trying out this type of gear at their age!
Rosie was very happy in her full chastity outfit, feeling well protected, and with a little training, she could get used to sitting, bending over, and walking around with her thighs locked together. Her dress hides the gear perfectly, although the chains do make an aweful lot of noise. It's a shame it was just a Casting, I would have loved to keep her in chastity for a while longer. Now it's over to you, please post comments if you want her back, and I will fly her over again to give her a more challenging time in Holland!