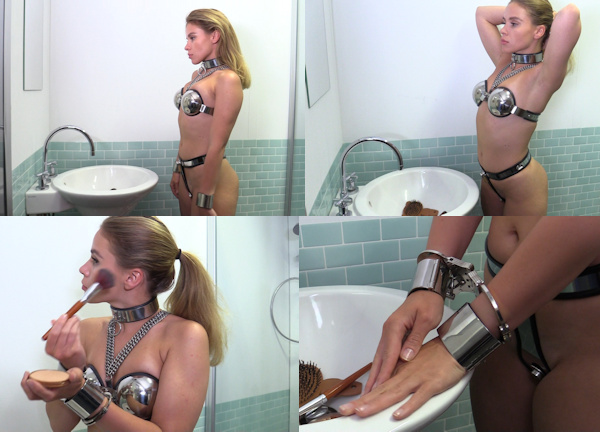 Remember Juliette? This stunning girl did a Casting a few years ago, and she was perfect in this NeoSteel belt! I always wanted her back for more, because I didn't get the chance to fit more items onto her beautiful body.
Now she is back and (of course) I had to pile more items on! Tight NeoSteel belt and a tight chastity bra to prevent ANY touching. Steel locking collar and heavy steel wrist cuffs too of course. Juliette was a little quiet after I locked all of this on her, and she carefully tried moving around. She clearly needed some time to get used to all of the steel, so I told her to go to the bathroom to finish her makeup and hair (a process which I rudely interrupted with my enthusiasm when locking her in steel).
Juliette was looking at herself in the mirror, trying to adjust some of the metal, but it was all so tight she couldn't even move it. Trying to continue with her beauty routine, I was hovering around with my camera. Juliette seemed to be fine! To make things a little harder still, I also locked a pair of short hinged handcuffs on her wrists. Just to see how she would deal with those. I think Juliette is very stoic, she wouldn't let all of this metal bother her too much. Which is perfect for a longer Deal!!