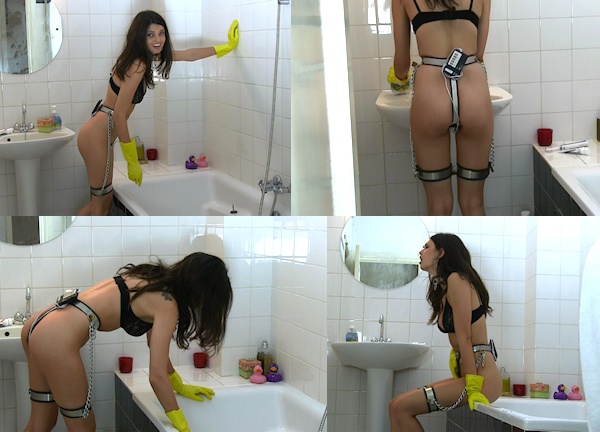 This is part 4 of our shocking Experiment featuring Yasmine! If you haven't seen part 1, part 2, and part 3 please watch those first!
The shocking Experiment lasted for about 8 hours, but don't worry, the box wasn't turned on all the time (Yasmine would have collapsed!). When we returned from our walk, Yasmine asked us if she could do some household chores, as she would have to wait to get the belt off anyway. This was a perfect opportunity to see how shocks affect real-life tasks!
Yasmine looked so cute in her big yellow latex gloves and bra! She was still collared, of course, and the belt was still firmly locked in place. This ergonomic model belt fits her so well! We loved the sticky pads peeping out on the sides! Off she went to thoroughly clean her bathroom!
Or that was her plan, at least. It turns out it is very hard to clean a bathroom when you are being shocked at random intervals and levels! And the floor is very unforgiving if your legs give out. Yasmine did not know whether to laugh (at her situation) or to be angry. She started begging us more and more to stop the shocks. She even had to sit down regularly to give her legs some rest. The only problem was that a sitting position somehow made the shocks much stronger!
We're almost at the end of our report on this Experiment. Next week: the final episode and the interview with Yasmine. Don't miss it: the interview was done before the belt was taken off (so it was still shocking her), and the Experiment ends with 1 minute at the highest shock setting!
Remember the Deal and Experiment updates are not shot in a studio so picture quality may vary. No Yasmines were harmed (badly) in this experiment.