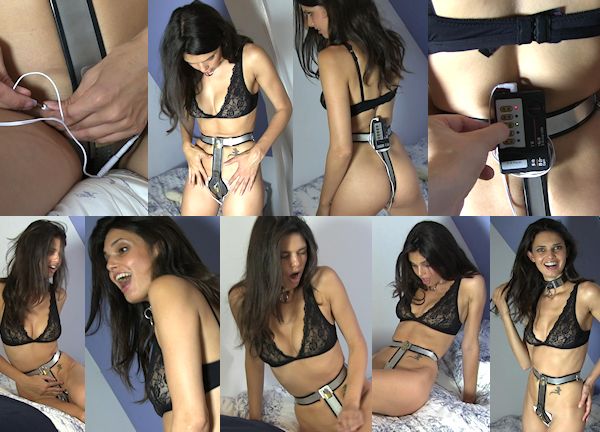 We promised to bring back the gorgeous Yasmine, she just kept writing us to make some cash from the time she first appeared on our site. Since we just received an interesting new black box, we thought it would be a nice idea to go to Yasmine's house to do a little experiment.
We told Yasmine to place sticky pads on herself in a very interesting place (exactly on the spot where contracting muscles cause a pleasurable feeling). She was then to be locked in a custom made ergonomical chastity belt (which is super tight and rigid). The sticky pads will be connected to the device that we taped onto the back of the belt. It is not a remote controlled device this time, but a pulsating electro box with a lot of different settings and adjustable power.
Here are the rules: Yasmine can not touch the leads or the box. She will spend at least 8 hours in the belt, no breaks allowed. We can turn on the box whenever we want and play with the settings. Yasmine can ask us to turn it off for a while, but we will decide. At special member request, she will be collared during the whole experiment (just because a collar looks incredible on her).
Yasmine described the feeling of being shocked as a 'funny feeling'. It made her laugh and jump at the same time. In this clip, she is shocked about every 5 seconds, the setting is not very powerful (it was just the start of the experiment), but the constant contraction of the muscles was really wearing her out after only a few minutes! It made her legs weak, and she did not know whether to laugh or cry. It did not take very long for her to beg us to turn it off…. We knew we were going to have a fun day, there were still 8 hours left to play with this device and this gorgeous girl! Yes, we have a tough job…
Remember the Deal and Experiment updates are not shot in a studio so picture quality may vary. No Yasmines were harmed (badly) in this experiment.